This past summer, my family and I did what most families do once that second kid comes along…move.  My family and I decided to leave our snug 2 bedroom NYC apartment for more space. You may think that we swapped in our dwellings for a large house in the burbs – but instead we decided to take an alternate route. We moved to Miami.
I think most of my friends and relatives couldn't believe that we would actually make the move down south, but here we are – 3 months later – and we are so glad we made this move. We moved here not for a job or family (which we had neither in Florida) but rather for a more comfortable lifestyle that would be great for the kids.
Even though I'm a native New Yorker, having kids in NYC is not for the faint at heart. I was over our cramped rental, the rat-infested playground across the street and the long winters spent sick indoors. We searched the neighboring suburbs but were left feeling empty – for me it felt like doomsday – a big house in the burbs, a mortgage, 2 kids and a suburban – this would be the rest of my life?!! This old city girl would be kicking and screaming.
Then we went on vacation last January, escaping the Polar Vortex for the sunny beaches, and my husband and I both said – why not? Why can't this be our everyday? And voila! Decision made. We were moving. People started putting me in touch with other ex-New Yorkers that have made the move (there's a bunch of us down here) and I started researching. Florida is not only for retirees. There's a big population of young families down here that are leaving the city in drones and have decided not to live in the suburbs.
It's nearly November here and it's in the 70's – clear skies everyday. I'm no longer obsessed with checking the weather every morning as I had done for years in NY just to know how to get dressed. Here, jeans and a T-shirt work on most any day of the week.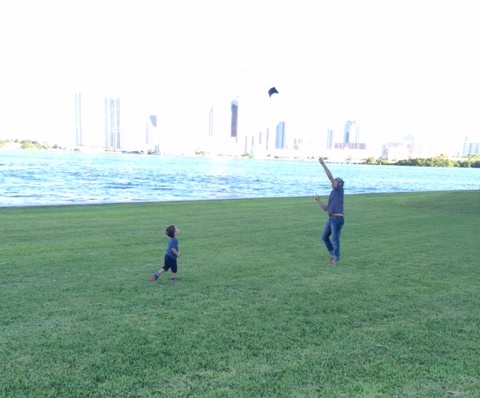 I get to step out onto my balcony and watch the sunrise over the ocean each morning. And run around in the nearby park with my son most afternoons.
There are plenty of date night restuarants to check out in Miami that far surpass most NY hot spots. A recent dinner at Katsuya in the SLS hotel led to drinks outside poolside. I had to pinch myself- do we really live here? Why didn't we move sooner?
I've heard the naysayers: There's no culture! The schools are horrible! It's too hot!
Let me address these concerns:
1. Culture: A recent outting to the Design District had me gasping – this is what SOHO used to be like before Old Navy and Victoria Secrets dominated West Broadway. Small galleries, cool boutiques, fabulous restaurants, walls strewn with street art. I was in heaven. Nearby the Batsheva dance company was performing and signs for Madam Butterfly are posted by the Miami Opera House.
2. Schools: I always wanted to send my kids to religious school so even if I lived in the suburbs I would be paying for private school. At least now I don't have the high taxes upon the high private school costs. That being said, there is apparently a great charter school in the area that everyone is dying to get their kids into, and if you go further North the public schools are very good.
3. Heat: We came down during the hottest season – and we survived. It actually didn't bother us all that much as the airconditioning is blasting in every location. You may actually need to keep a sweater handy.
Miami could become the next NYC suburb. As for me, I'm officially an ex-New Yorker and I'm happy to be one!